Zhermack introduces Hydrorise Implant, the new high rigidity addition silicone ideal for impression taking in implantology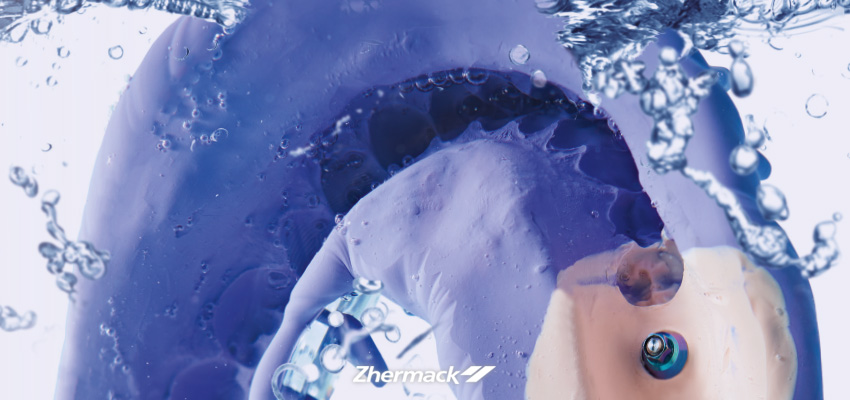 The success of a prosthetic restoration supported by implants is obtained by combining know-how, technique and high-quality materials. Starting from these points, impression taking plays a key role, in fact in order to obtain an accurate impression on the first try, rigidity, elasticity, high dimensional stability and precision are essential.
These considerations marked the birth of Hydrorise Implant development as an extension of the Hydrorise line, already known in the market thanks to its excellent performance. "Made with high-quality raw materials, it represents a step forward in the world of implant impressions that satisfies the growing needs of dental professionals" claims Nicola Rossi, Impression Product Manager at Zhermack. "We created an addition silicone that distinguishes itself for its high rigidity, long-lasting dimensional stability and biocompatibility: therefore it is suitable for implantology, specifically for multi-unit implant cases where these features allow to support and simplify the dentist's job".
As an addition silicone Hydrorise Implant is accurate: rigid to transfer correctly the implant position, precise and hydro compatible, dimensionally stable up to two weeks and with a high elastic recovery that makes it resistant to distortion upon removal. Hydrorise Implant has been designed to be safe, both for the patient and the professional: biocompatible, radiopaque so that residues under the gum are easily identified with a simple xray, stable after disinfection. Besides accuracy and safety, we can add also comfort for the dentist and the patient: it minimizes the stress of the professional during impression taking thanks to an optimal working time. Additionally, short time in mouth and mint scent reduce the patient's discomfort during impression taking.
To complete the picture, we have scannability without using matting sprays and possibility of using the product with the most common impression trays: standard and custom. Hydrorise Implant is available in convenient self-mixing cartridges in three viscosities (Heavy, Medium and Light Body) allowing to use it with monophase (Medium) and simultaneous, two viscosities (Heavy-Light) techniques both for "open-tray" and "closed-tray" procedures. Hydrorise Implant is Zhermack's solution that helps restore a functional and harmonious smile. Hydrorise Implant. Simply accurate.